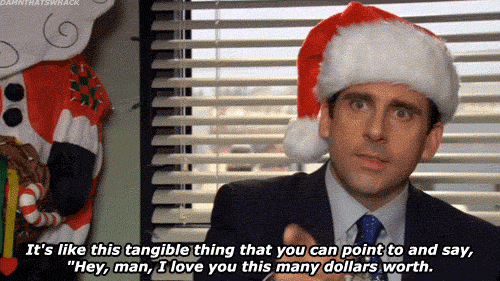 Caution! Before you continue reading, head this warning... this gift guide is meant to be satirical, only gift these items to coworkers or bosses you feel confident will appreciate their humor. 
Okay now we can proceed to the gift guide. These items are sure to give anyone a good laugh and lets be honest, that within itself is a priceless gift. We are sure your work peeps will appreciate these gifts in more ways than one!
1. Desk Foot Hammock
Know of that one coworker who takes their shoes off as soon as they reach their desk/office 
(we will refrain from commenting on the professionalism of this act, we don't judge here HAHA!). Or do you know of a fellow female employee who is always strutting down the halls in the fiercest pumps, so confident yet secretly waiting with baited breath until she can slip off her shoes and sigh in relief? Well this is the perfect gift for them, or anyone wanting to kick their feet up and be a bit more discrete about it. This is sure to be a hit with anyone in the office! 
Shop here:
https://www.walmart.com/ip/Foot-Hammock-Office-Home-Desk-Foot-Rest-Stand-Novelty-Item-Blue/430059886?wmlspartner=wlpa&selectedSellerId=3084&adid=22222222227076855757&wmlspartner=wmtlabs&wl0=&wl1=g&wl2=c&wl3=189793558957&wl4=aud-310687322322:pla-294753187570&wl5=9012194&wl6=&wl7=&wl8=&wl9=pla&wl10=113500299&wl11=online&wl12=4300
59886&wl13=&veh=sem
2. For Dummies Books
Do you know someone who could benefit from a user manual on basic topics like Microsoft word, the internet (yes thats part of the list), or any other array of things you can think of. The "For Dummies" books are great how to manuals that provide the cheat sheet version on how to master a wide array of subjects. If you find yourself giving an individual advise on how to work excel or navigate the internet, hand them this fail proof guide. Just make sure they have a good enough sense of humor to stomach the title ;).
Shop here:
http://www.dummies.com/store/All-Titles.html
3. Stress Reduction Kit Poster
This stress reduction kit has been proven to provide instant relief to stress, but if actually taken seriously it can also cause a concussion so do make it apparent that this is a joke and should not be followed through! This poster can be a great wall hanging piece in anyones office, it shows they have a sense of humor and can bring some comic relief to many stressful moments when glanced at. Place in a cool frame for an added touch.
Shop here:
https://www.amazon.com/Stress-Reduction-Hanging-Print-Directions/dp/B00WFV6O6G
4. Funny Mugs!
Do you have a boss/coworker that is quick witted and always ready to dish out the sarcasm? If you do chances are they will enjoy one of these mugs! These are sure to be a hit at the coffee station ;)
Shop our favorites here:
https://www.amazon.com/Coworker-Tears-Staff-Office-Coffee/dp/B01BNV8SDA/ref=pd_lpo_vtph_79_tr_img_2?_encoding=UTF8&psc=1&refRID=ZW1WGAHZH4PQ89ESJ772
https://www.etsy.com/market/office_humor
5.  Chill Pills
Does anyone at your job always seem to be more stressed out than the average bear? Typically for those who have a harder time finding a way to relax this gift is sure to help them with just that. Fill a mason jar with his/her's favorite candy or guilty pleasure like cookies if they prefer and slap a funny medicine label on that says "Chill Pills". This way if they can't find it easy to slow down and relax on their own, they can be swayed to do so with treats :)
Shop our favorite label here:
https://www.etsy.com/listing/576014507/chill-pills-printable-label-funny-gift?gpla=1&gao=1&&utm_source=google&utm_medium=cpc&utm_campaign=shopping_us_e-paper_and_party_supplies-other&utm_custom1=87c3ac33-e10f-4a99-b841-a4b965a8c919&gclid=CjwKCAiApJnRBRBlEiwAPTgmxK3ao-AyrjqDOGvfQ-cVChscdGrIObnV2icX-SjoFi1bmRxBKyt8bRoCjB0QAvD_BwE
Shop Mason Jar here:
https://www.target.com/p/ball-174-set-of-12-1-pint-16-oz-regular-mouth-canning-jars/-/A-12794405?ref=tgt_adv_XS000000&AFID=google_pla_df&CPNG=PLA_Kitchen+Shopping&adgroup=SC_Kitchen&LID=700000001170770pgs&network=g&device=c&location=9012194&gclid=CjwKCAiApJnRBRBlEiwAPTgmxDygfra18rFG8KjNJ2Tvf5UAYVY64rNXLzrDeg8ZbXZcOQmPRHKuzRoCxkQQAvD_BwE&gclsrc=aw.ds